Initiation of a Green Man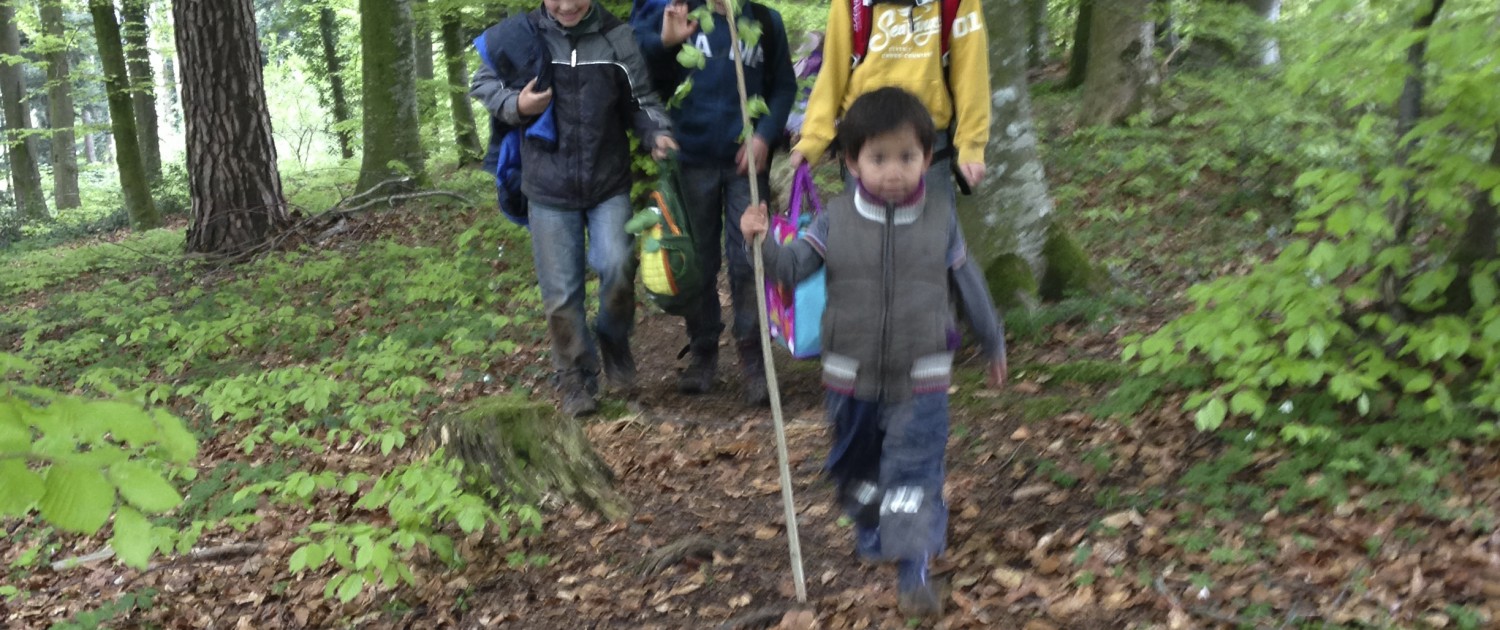 This week is spring vacation, and May Day falls right smack dab in the middle of it. May Day, or Beltane, as it is celebrated by my Celtic ancestors, has always been an auspicious time for me and I have often marked it with a special evert. In younger years when I was dancing, I would often have a concert the first weekend of May. It was always simultaneously the culmination of something- a great deal of work- and the the ushering in of a new phase. This year I marked the season with two days in the forest with a marvelous group of faeries and green men.
Accompanied by my friend Janie and her three sons, as well as my own two boys, we had two distinct groups — our little four year-old faes and our 8 -11 year old green men. The boys wanted nothing to do with faeries or magic. That's all make believe little kid stuff and they were much too old and sophisticated for that sort of childishness. I told them a bit about the warrior aspects of the traditional green men of the forest and they perked up a little. "Now that is more like it! We want to be scary and fierce!" I was wondering how these two distinct species of fair folk were going to get along. Each with their own habits and proclivities, these magical creatures of the glade coexisted quite beautifully sharing some wonderful tender moments together.
We reached our special place in the forest and the preparations began. As magic wands and crowns were fashioned by the young faeries, the older boys got together to build the fire, sharpen sticks for roasting and cut vegetables for our picnic lunch. Ah, yes, the Swiss army knife. Getting one of your own, and learning how to use it is very much a right of passage here in Switzerland. But with this great privilege, comes great responsibility. The boys know the rules of engagement and just how fast I will confiscate a knife when the rules are not followed to a tee. Just ask Scotty… I still have his knife.
Lunch was a convivial affair. Fresh fruits and vegetables and grillables in the finest Swiss tradition. Kids will eat just about anything if they have prepared it themselves, I find. Plus, everything always tastes better al fresco! For dessert, fairy bread. Big chunks of bread dipped in sweetened condensed milk, toasted over the fire and sprinkled with colorful jimmies. Yum.
Quite naturally, after lunch we settled in for a little quiet time. The girls paged through the field guide identifying some of the flowers they'd found on the way. I had said nothing about the book, it was simply there. Wow! I never expected the little ones to be so inclined. I had brought the book thinking it might interest the older kids and perhaps encourage a little reading from my action-oriented younger son. The girls were able to identify the dandelion, the buttercup and little common lawn daisies, quite readily. Bravo, young faes! Who knows what other enchanting tales were revealed in this colorful little storybook.
On our most recent visit, just a couple of weeks ago, we passed through our main forest area while returning from an exciting morning's adventure in the stream. We noticed our forest home had been tampered with. We have a very subtle presence there, hardly noticeable, really, save for the fire pit, small branch and net construction and the half a dozen tree stumps organized in a circle. It took me a minute to realize that these new changes were not the work of severe weather or animals, but rather of destructive human beings.
The fire pit was a mess, our hidden stash of dry fire wood had been discovered and exhausted leaving the usually well-hidden, bright orange tarp calling attention to itself in the middle of the forest floor. The branch and net house the children so carefully constructed was in a ruinous state and most of our tree stump seats were missing. One of the stumps was spied sitting at the bottom of the hill.
My heart sank as I took stock of what had become of our wonderful place. The sense of violation was strong and I asked aloud but rather rhetorically, "Who in the world would do such a thing?!" "A ghost did it!" suggested Millie. "Two naughty boys," was Danny's suspicion. "We should call the police," he added. We vowed to rebuild when we returned after the spring holidays.
Danny was the only child with us today who had also been present on that fateful friday last month. Apparently, he remembered our vow and did what any enterprising young sprite would have done… he elicited the help of the older boys to begin to reconstruct our home. Quite unbeknownst to me, the boys began rolling the logs up the steep embankment, a tough job even for Kyle our 11 year old.
Before we knew it they had rescued not one but two of the missing tree stumps. Danny later thanked Kyle by gifting him with his leafy crown, and young Zoe, threw her arms around Jamie much to his embarssassment.
By the end of the day, the transformation was complete and the green men marched out of the forest with young Danny in the lead. and the faeries flitting behind stopping to pick the flowers.
http://www.natureplay.ch/wordpress/wp-content/uploads/2015/09/zoe-makes-a-crown.jpg
3264
2448
jane
http://www.natureplay.ch/wordpress/wp-content/uploads/2015/09/big-new-master-NP-logo-e1442178414890-300x113.png
jane
2013-05-11 18:42:27
2015-09-25 19:06:17
Initiation of a Green Man